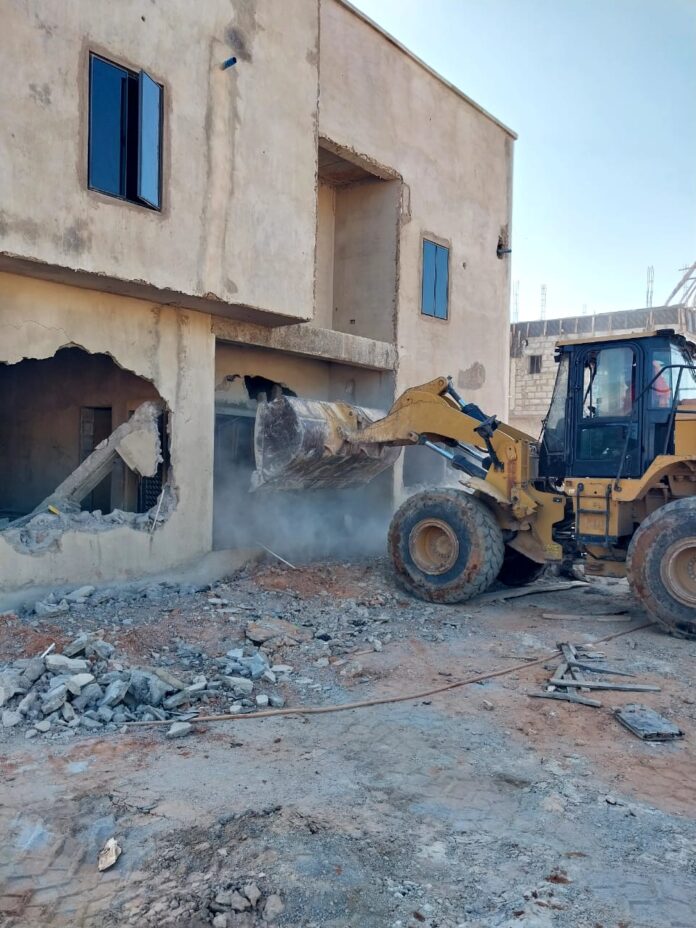 The Federal Capital Territory Administration, FCTA, on Tuesday called on all illegal shanties, shops, okada, barchers in notorious Durumi area should start parking because there is going to be a massive cleanup in the area.
Senior Special Assistant to the FCT Minister on Monitoring, Inspection and Enforcement Mr Attah Ikharo revealed this while speaking to journalists, when he led his team to Karasana for cleanup.
Attah said the cleanup will be a massive one that would involve all the security agencies in Abuja, AEPB, FEMA, Security Department, Development Control etc.
He added that the FCT Minister Malam Muhammad Bello, has already given a matching order at the recent FCT Executive meeting, for the massive clean up of the notorious Durumi area .
According to the SSA, "The biggest area is Durumi community, Durumi has so many barchers, shanties, monkey villages and the FCT Minister Malam Muhammad Bello, at the recent FCT executive meeting have given a matching order that all forms of dangerous illegalities shanties ,barchers, shops around Durumi be removed and also activities involving illegal okada operation and cashew forest.
"The Minister has given directive and all security agencies are already meeting on this issue, they all working round the clock" .
Attah explained, "It would be a full massive cleanup in Durumi, many persons that are calling themselves Internally Displaced Person, IDP, when they are not,Federal Capital Territory Emergency Management Agency,
FEMA, will be coming in to identify them. The Minister is keen to cleanup and rid Durumi of criminalities.
"FCTA is coming massively to clean Durumi community and they should be ready. So that Durumi would be safe for everyone around. If they choose not to move,the machine will move them. We will keep on coming to remove all illegalities in Abuja. We are still going to kado, Utako areas, it is a daily continuous work".
Director, Department of Development Control, Muktar Galadima, while speaking to journalists at Ideal Grace estate, he decried the rate at which estate developers grab land in Abuja and this is unacceptable.
He said, "We came here to remove some estates that has no valid documents, we have removed over 10 houses and over 15 foundations.
"You see initially this developer Ideal Grace in partnership, acquired 17 hectare of land and later one of the partners claimed to have been allocated extra 39 hectare, he said it is the extension to the original allocation which is not real.
"So having served him notices and giving him time to comply but there was no compliance so we have to come here to enforce".
He warned developers, "All estate developers in FCT must comply with all status provisions including Development Control manuals, district land use plan , as well as guide lines governing development in FCT.
"FCTA has declared war against all land grapplers in Abuja, it is a war we have started and we are going to sustain it".
Frank Samuel, a machine part dealer, in Karasana area, accused the FCTA officials coming to collect money from them on on regular basis and the last time was on Monday, in order to prevent demolition of the area, "These people came to demolish when I wasn't around before I could reach here they already demolish everything I had. What they did is not fair to me . Government should help us because what we are doing here is legit, nobody notify us they only comes once in while to collect money, even yesterday they collected money from us . If there is any way they can compensate us even yesterday they collected N1,500 from us, they will come like once or twice a week to collect money from us".
Kaka Bello, the Assistant Director, Enforcement, Abuja Environmental Protection Board (AEPB), at Jabi Arab, decries usage of
Abuja walkway for commercial purposes, he said this is unacceptable and anyone caught will face the wrath of the law.
"It our normal cleaning we are in Jabi arab, where part of the walk way has been turned into illegal market and this is unacceptable. Anyone that convert our walkway, island into shops, shall be removed and anyone caught will face the wrath of the law" , he warned.
By Fatima Abubakar.