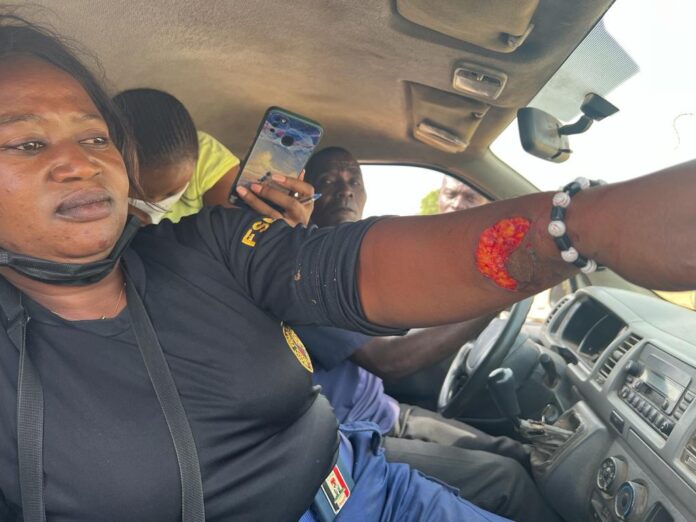 In order to tackle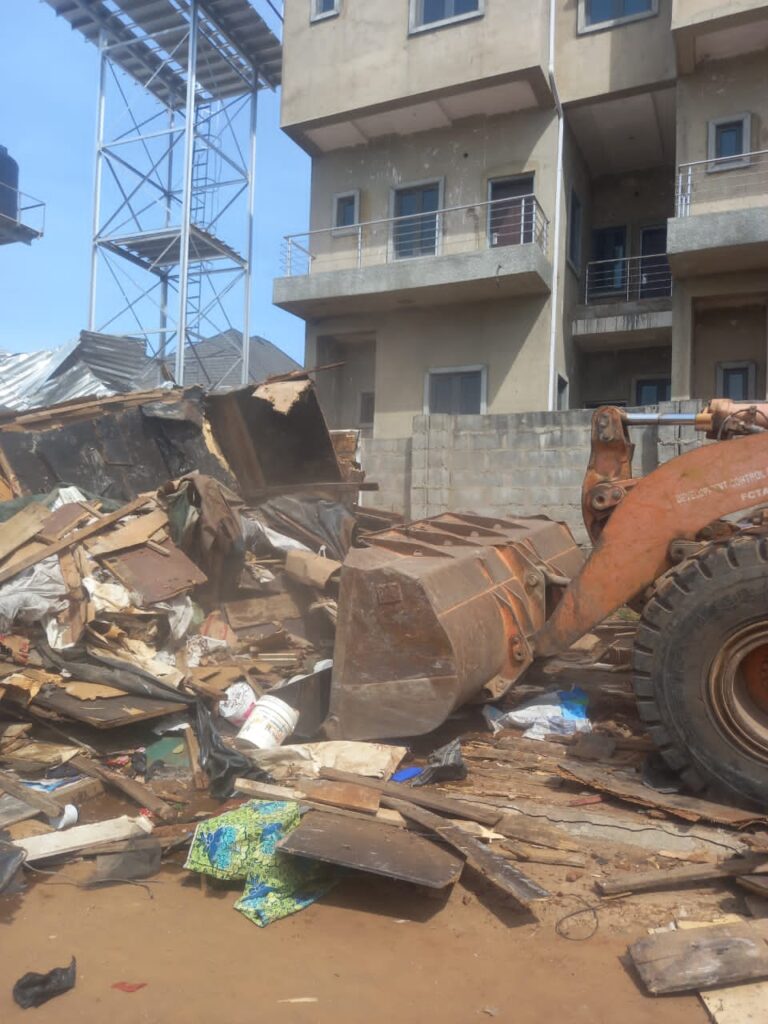 some of the security challenges in Katampe extension, , the Federal Capital Territory Administration, FCTA, on Wednesday, removed shanties, barchers and illegal structures.
An officer of the Nigerian security and civil Defence Corp(NSCDC)was badly injured by one of the owners of the shanties.
The woman who bite off the flesh of the officer,swallowed the flesh immediately.
The officer who started bleeding profusely had to be rushed to the hospital while the woman in question was arrested and taken to Gwarinpa Police station.
The Senior Special Assistant to FCT Minister on Monitoring, Inspection and Enforcement, Comrade Ikharo Attah, while reacting to the assault said attack on the taskforce is becoming too frequent and sàid the woman who committed the assault was handed over to the Police for thorough investigation on the matter.
On Katampe,Attah said Whenever there is security challenges in the area most of the things recovered are traced to these people living under the cashew trees, shanties, barchers in Katampe extension".
The SSA reiterated the commitment of the FCT Minister Malam Muhammad Bello, in ridding the nation's capital of shanties, barchers and all illegal structures on the road corridors, especially in high brow areas, under high tension cables etc
The Assistant Director Enforcement,Abuja Environmental Protection Board (AEPB), Mr.Kaka Bello while reacting to the incident;Said "These are some of the things we experience as an enforcement official, he said a woman assaulted an officer on duty and you can see the injury she inflicted on the officer,she has been arrested and  taken to Gwarinpa Police station and the law will take it's cause".
On Katampe he said, "This is clearing of illegal squatters in Katampe extension, this area is a diplomatic zones , in some of this areas illegal squatters building illegal structures ,these are some of the things the administration is frowning at, AEPB acts, is against it and we are doing everything we can to ensure we sack such nussant."Apart from the fact that they are environmental nuisances, they also contribute to high rate of crime in this area, there are lot of suspected criminals who have been arrested in this area. They steal from residents, and we are here to clear them".
By Fatima Abubakar.
.