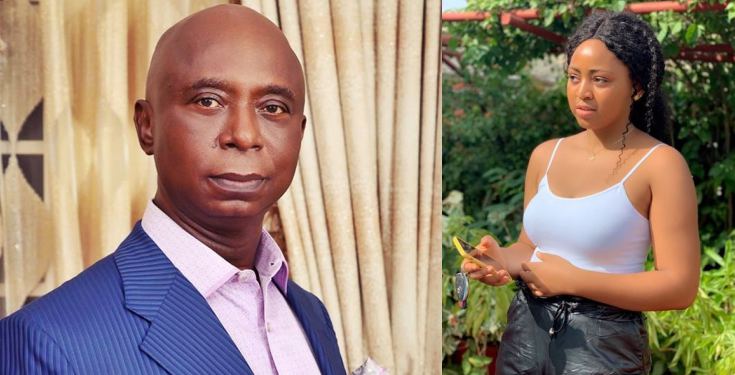 A new report obtained by Naija News, has it that Regina Daniels, teen Nollywood actress may already be pregnant for her new lover, Prince Ned Nwoko.
As previously reported by this online medium, Daniels became an internet sensation in recent times over her sudden lavish lifestyle which has now been allegedly traced back to her secret marriage to Nigerian billionaire lawmaker, Ned Nwoko.
Recently, some other celebrities have risen in defense of the young actress, urging the public to stop criticizing her and respect her decision.
However, a report by www.e-nigeriang.com revealed the actress is already four months pregnant for her 59-year old lover.
The news platform, in a report claimed a family source hinted that Regina Daniels is already 4-months pregnant.
The source revealed that, "not only is she pregnant, but for now, Regina Daniels remains Ned Nwoko's most favourite wife, with unlimited access to his most expensive cars, houses, as well as his private jet which she brandishes all about.
None of Ned's wives nor concubines are said to have access to his Rolls Royce (valued at over N100 million), his expensive Ferrari, his private jet as well as his latest delivery; a Mercedez Brabus with an Abuja number plate, YAB-486 BH except Regina."
Furthermore, there are reports that Daniels has already gotten a London apartment from her lover at an undisclosed location ahead of her expected delivery.
BY SHAMSIYA BARA'U AHMED