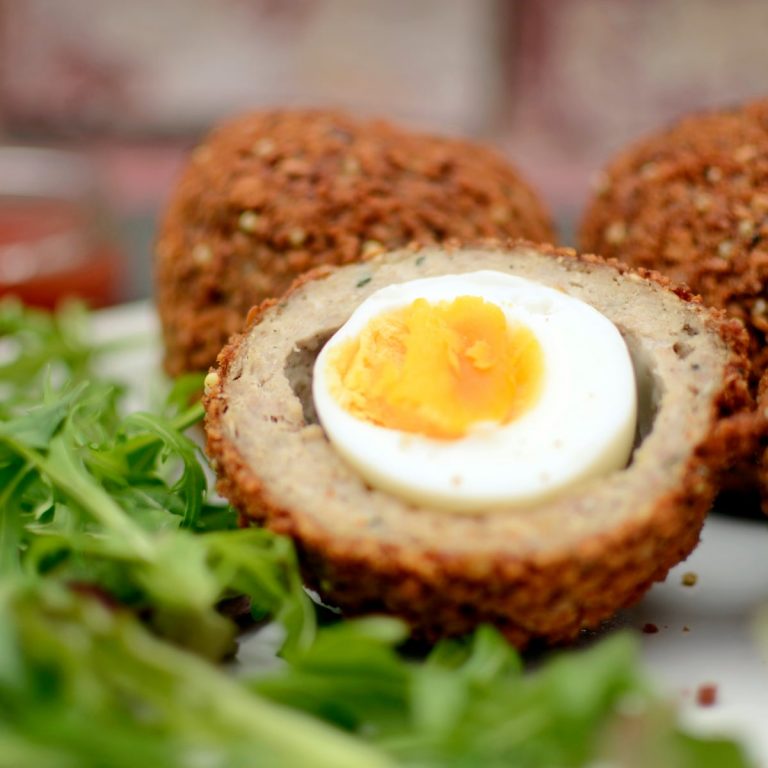 Today we would be teaching you how to make easy and delicious Scotch egg and also we would teach you how to substitute bread crumbs for cornflakes as a binding agent for the Scotch egg.
INGREDIENTS
*sausages
*oil
*curry and thyme
*seasoning cubes
*eggs
*onion 
*flour
*cornflakes as a substitutes for bread crumbs
STEPS ON HOW TO MAKE YOUR EASY SCOTCH EGG
1. Start by boiling your eggs.
Then finely process your cornflakes to have your binding agents.
2. Process your sausages till it is broken down a bit, then add your onion, seasoning cubes, thyme curry  to the sausages and process until it is smooth.
3. By now your eggs are boiled, put them inside cold water and peel the shell.
4. In a separate bowl break one egg whisk and set aside for binding.
5. Start by picking one of your boiled egg roll in flour, cover it up completely with the sausage, roll it up in your whisked egg then finally roll it in your processed cornflakes.
6. Repeat this process till all your boiled egg is finished.
Heat your oil until it is hot then put  your Scotch egg,  fry till it is golden brown.
7. Bring out your scotch egg and allow it to cool down.  Serve with tea for breakfast or as a starter . 
By: Firdausi Musa Dantsoho