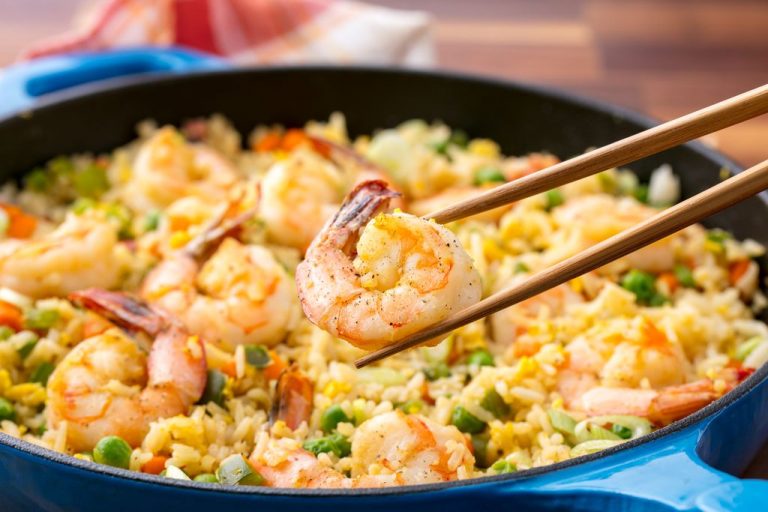 Delicious chicken and shrimps fried rice is a known dish in this part of the world . Although it's not  originated from  here but our chefs have taken the recipes and personalized it to soothe our test buds. 
Today we would be teaching you how to make delicious chicken and shrimps fried rice. JUST like the name suggest , this food consist of chicken, shrimps and rice which are also the basics in making this delicious meal.
So let get started, make sure you wash your hand thoroughly before you start cooking.
INGREDIENTS
*Oil
*Cooked Rice 
*Green chilli 
*Peas
*Carrots 
*Seasoning cubes
*Shrimps
*Chicken breast chunks
*Sweet corn 
*Ginger and garlic paste
*Salt
*Black pepper
*Onions
*Eggs
*Soy sauce
*Fried rice spices
*Spring onion
DIRECTIONS ON HOW TO MAKE SHRIMPS AND CHICKEN FRIED RICE
1. Cook your rice, until it is well cooked and set aside.
In a pot add oil and heat it up then add chicken breast , ginger, garlic and seasoning cubes then stir fry until your chicken breast is cooked then remove from the oil and set aside.
2. Using the remaining oil you use in frying your chicken add your shrimps, salt and black pepper and fry  your shrimps both side then set aside.
3. In the same pot add more vegetable oil, chopped onions, ginger and garlic paste and fry for one minute. 
Then add your chopped green chills, carrots, peas and sweet corn then stir.
4. Add your scrambled eggs stir then add your cooked rice, seasoning cubes, soy sauce, fried rice spices and stir until everything is well combine.
5. Add your cooked chicken , shrimps, and stir
Finally add your green pepper and spring onion, and then allow it to cook for 2 minute.
6. 

Your chicken and shrimps fried rice is ready. Serve it with orange juice or fresh juice of your choice for lunch . 
By: Firdausi Musa Dantsoho