Our woman crush today is a  policewoman who is currently serving as the commissioner of police, and head of Nigerian police force animal branch, Abuja. 
CP Aisha Abubakar Abdulwahab also known as Aisha Baju, from Taraba state but born 1971 and brought up in Adamawa state.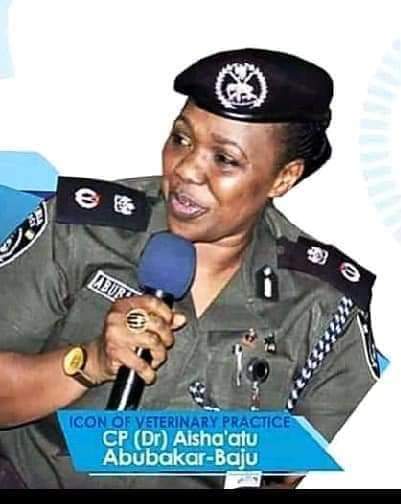 Aisha joined the Nigerian police force in 1995. She attended Ahmadu Bello University Zaria from 1984 to 1994  where she graduated with a degree in veterinary medicine. In 2007, she completed her PhD from the University of Plymouth in the United Kingdom. 
She joined the Nigeria Police Force as an ASP, after her national youth service year in 1995. She past through the ranks and was promoted to the rank of commissioner of police in 2016.
Aisha has worked in so many places; she also serves as a role model to young police women . 
In 2005 she won a UNESCO fellow award for her proposal to use DNA to identify the link between human and bovine tuberculosis. By taking samples from cows and people she could evaluate the risk that Nigerians made when they drank unpasteurized milk. The award enabled her to complete the research at the University of Plymouth.
 Aisha is a  mother of two beautiful children.
By: Firdausi Musa Dantsoho