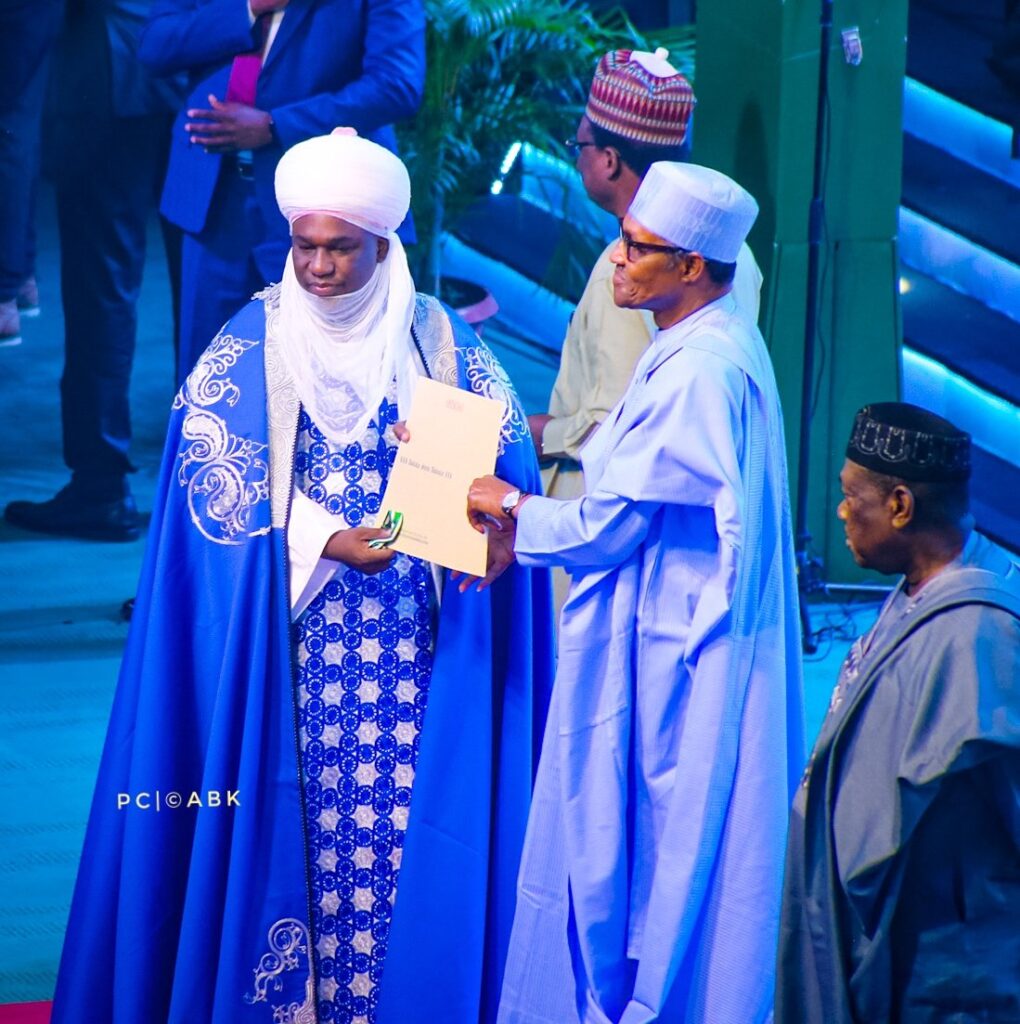 President Muhammadu Buhari has awarded various Nigerian dignitaries with award of GCON, CON, OFR, OON, MFR.FRM and CFR; among the awarded and deserving is the Emir of Gombe, His Royal Highness  Alhaji Dr Abubakar Shehu-Abubakar III with the Commander Of the  Federal Republic CFR on the celebration of Nigerian Independence which can be added to his tittles…
The National awards was established by the National Honours Act of No 6 in 1964. This took retroactive from 1st October 1963; and that gives the President power to award deserving Nigerians who contributed tremendously towards the development and progress of the Country.
His Royal Highness the Emir of Gombe has contributed towards the building and sustaining peace and stability not only in Gombe but Nigeria at large is a well deserved award, the 11th Emir emerged as King after the death of his father the 10th Emir of Gombe State on the 27th of May 2014.
His Royal Highness Alhaji Abubakar Shehu-Abubakar CFR was on the 17th December 1977 in Gombe town, he did his Primary and Secondary in Gombe State between 1982 to 1988; and 1989 to 1995 respectively. he also attended University of Maiduguri from 2001 to 2005 where bagged a Bachelors Degree in Political Science.
He became the supervisory Councillor in Gombe Local Government Council for a year between 2006 to 2007, he was the Personal Assistant to the Director of Administration, Ministry Of Defence Abuja from 2007 to 2009, he was the Chairman Klipton Lagoon Nigeria Limited and also the Executive Director Horizon Interlinks Global Resources.
His Royal Highness was the Santurakin Gombe and the second son of the Late Emir; He is also the Chancellor of University of Agriculture, Umudike. His Royal Highness was conferred with the honour of CFR on the 9th of October at the International Conference Centre where the commander in Chief of the Federal Republic of Nigeria, President Muhammadu Buhari presented him with the honour.
The event ended up with a Dinner to honour His Royal Highness Alhaji Dr Abubakar Shehu-Abubakar III CFR by friends, sons and daughters of Gombe to celebrate with him with goodwill messages by various dignitaries that were present at the event. The night was colourful with different cultural dancers from Gombe State and beyond.
Safrat Gani