When you talk fashion, the first thing that comes to  our minds is style and elegance. For women, fashion is what defines us. We all want to look stylish, gorgeous  in whatever we wear. Every woman is a fashion enthusiast. We dress well to make ourselves happy or to impresses  the men in our lives, our female friends and   in recent days , for the sake of the social media comments and appreciations. We dress up every day and take beautiful pictures of ourselves and post , just get those likes and comments on Instagram, Facebook, Snap chat and other social media platforms.
Now let's get down to the  business of the day which is of course our First Ladies in Nigeria both past and present. Nigeria has been blessed with quite a number of beautiful and fashionable First Ladies over the years. Apart from providing moral supports and standing beside their husbands, this women have shaped the evolution of Political Fashion. These are however  the  seven most fashionable First Ladies of our time and how their fashion trends impacted Nigeria's fashion industry :
Aisha Buhari: She is the wife of the present President of Nigeria His Excellency Muhammadu Buhari. In her late forties. Aisha's style is modern and fresh (what I like to call woman wai sabi in pigin English) Even though her mode of dressing is conservative, traditional and stays true to her religious beliefs, she nonetheless likes to keep up with the latest fashion trend. People find her style attractive because she does a good mix of traditional and western fashion without overstepping the bounds of acceptable dressing. She loves heavily embroidered fabrics, costly accessories that include diamonds and other precious metals. This way, she leaves a lasting  impression wherever she goes. Aisha's love for turban is so amazing . She knows how to rock them well, what pattern, color and style to wear along side her  ever elegant outfits.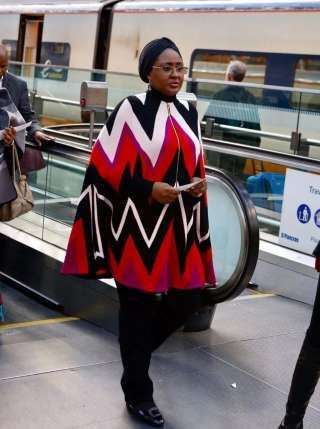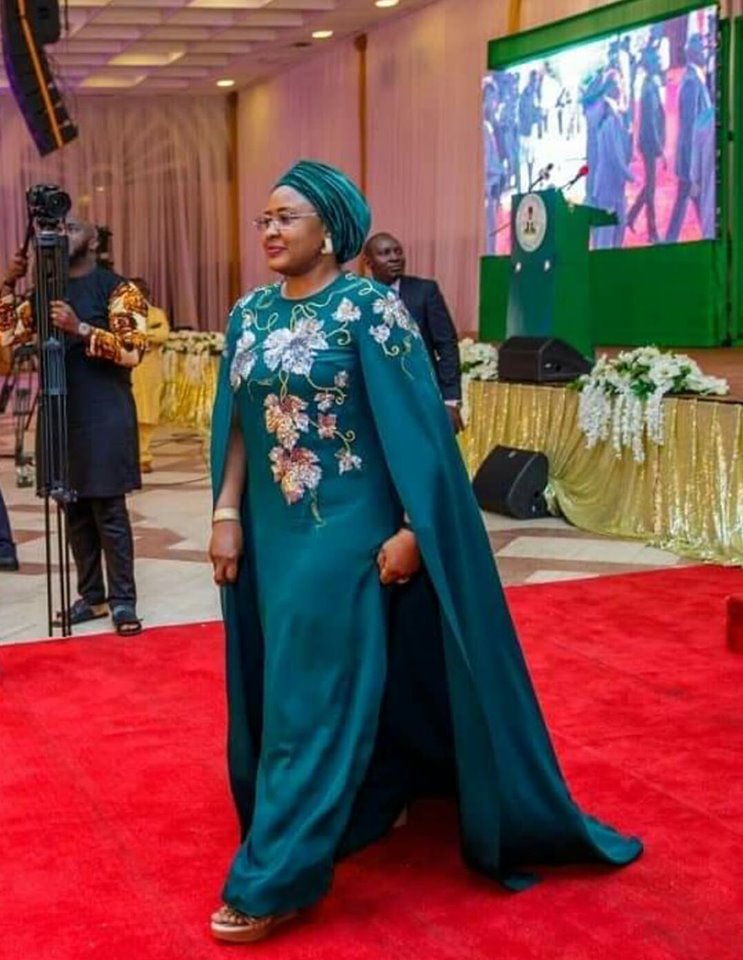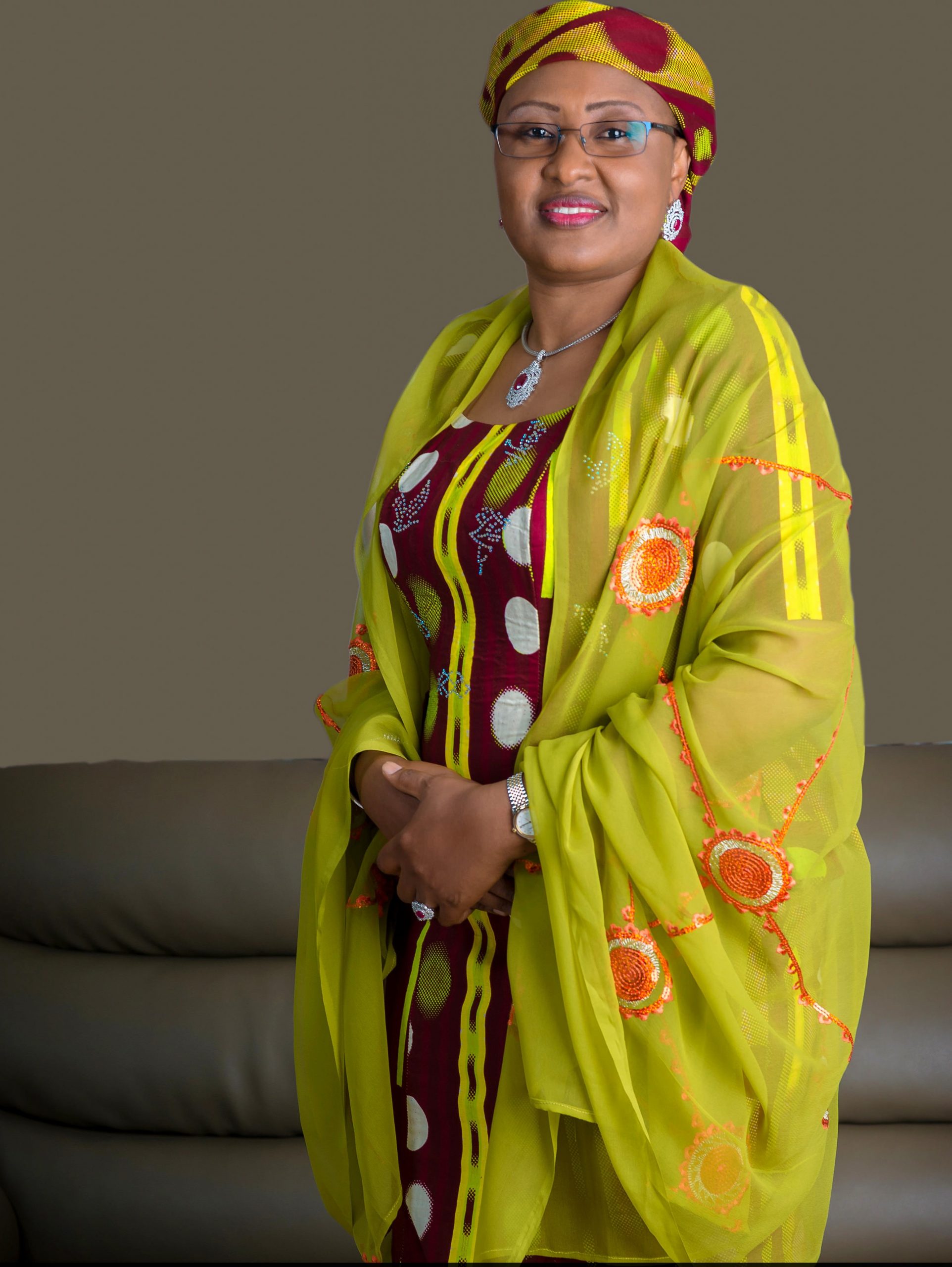 Late Maryam Babangida: Unarguably one of Nigeria's most stylish first ladies, Late Maryam was married to former military head of state, Ibrahim Babangida.
Maryam was a woman of style, one who had a very bold physique as well. She had an elegant stature and posture , so whatsoever  she wears  often suit her perfectly.  A lot of women looked up to her  as their fashion role model at that particular time, thereby  picking styles ideas from her.  She was indeed a trendsetter . Maryam was elegant, stylish and classy . Envisioning her in my head right now while writing about her style makes me love fashion the more (Sigh……) Late Maryam used a lot of the traditional Aso Oke to create fantastic styles.  One of her most fashion statement item was how she amazingly used to tie her head gear, which is also my favorite part of her style. Her Ankara skirts and blouses were magnificent and never passed unnoticed .She was also known  for patriotism as she  always wore clothes made from our locally made fabrics. For her jewelry, it was always  simple gold and they always matched her clothes and other accessories. She was indeed Madam stylish!
Patience Jonathan :One of Nigeria's most popular former first ladies, Dame Patience Jonathan's colourful style ensured that she did not evade notice. When I look at Patience Jonathan's style, her native attire always ensured she looked different in a good way.  Do you know why? She wears a lot of traditional wears that suite her chubby nature . She also loved to wear gele on her head. I love the fact that she often wore Niger Delta attire even when she travelled abroad on an official trips. It was interesting to see how much effort and time she put into looking glamorous at all times.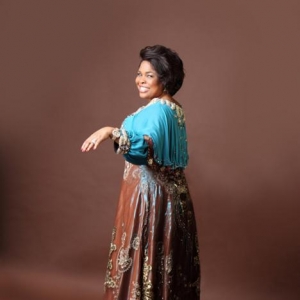 Maryam Abacha: Maryam Abacha is the widow of former military head of state , General Sani Abacha.  One of the most beautiful First Ladies Nigeria ever had . She was not only beautiful but known for her glamorous sense of fashion. She bought lots of glitz and glamour to the office of the first lady. She is usually garbed in native northern tradition wears which come in an array of wrappers, blouse and kaftan. While in Office, Maryam was noted for her love for fine gold  jewelry which she adorned  most of her clothes with . She also had a specially way tying her scarf which was then know as "Maryam Abacha" and in some occasions she does the Kanuri lapaya which complement her elegant stature. Blessed with good looks,  even in old age  she was able to make fashion statement all the time.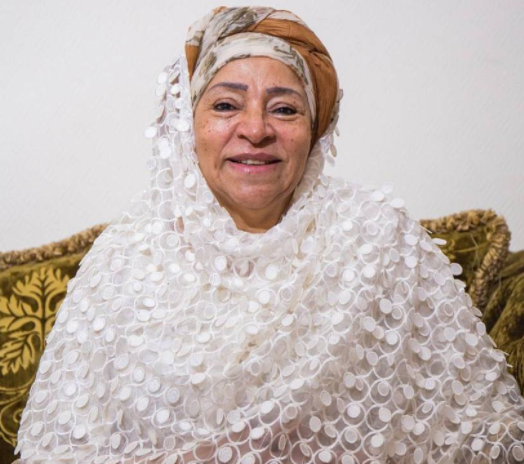 Turai Yar'Adua :Hajia Turai Yar' Adua is the widow of former president, Umaru Musa Yar' Adua and served as the first lady of Nigeria from 2007 until her husband's death in May 2010. Turai was simple, yet stylish.  While in office she  is often dressed in Ankara pieces, kaftans , scarves and veils to cover her head or sometimes her neck as a devoted Muslim woman . She is also a big fan of expensive abaya ,veils and expensive jewelry. Her veils were overtime known during her time as "Turai".  She is still a very simple  and yet stylish woman .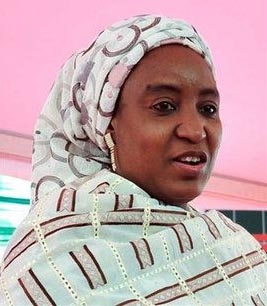 Late Stella Obasanjo: She was the wife of former president, Olusegun Obasanjo and was Nigeria's first lady when he became the civilian president in 1999. Before her death on October, 23, 2005; Stella was regarded as a style icon as a result of her stylish ensembles while in office. Known for her love for sunshades which came in various designs, she wore a lot of statement pieces such as Ankara pieces, skirt suits , designer bags /purses , high healed shoes and her traditional attire synonymous with the Edo people where she hailed from. She sometimes does western attire that suits her body .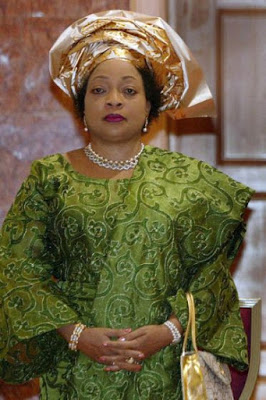 Justice Fati Abubakar :Often described as one of Nigeria's unique first ladies, she is married to Major General Abdulsalami Abubakar(retd.) who was Nigeria's military head-of-state from June, 9, 1998, to May, 29 1999. To many, Justice Fati Abubakar is simplicity personified and it also reflect in her sense of style. A lover of the traditional aso oke apparel, Fati  has a unique way of tying her headgear to look like a turban and many fashion lovers have since emulated her in that wise. She is a lover of boubous and kaftans as well, Justice Fati complements her clothes with minimal jewelry. Let me not forget , Justice Fatima likes to wear red lipstick which complement her dark skin colour.
What's your take on fashion? How does dressing good makes you feel? Do you take pictures of yourself each time you dress beautifully? Who is your favorite most stylish first lady on the list? Drop your answers on the comment section or send us an email on 
tozalimagazine@gmail.com
 . I will be happy to read  and respond to your comments.
🏾
BY MAIMUNA BAGUDU